If your company deals with a lot of data on a daily basis, then Microsoft Power BI may be the solution you need to turn that data into valuable insights.
Power BI is a solution that can help your team create interactive dashboards and reports, making it easier to analyze and understand your data. With this solution, you can easily connect to multiple data sources, including Excel, Google Analytics, Salesforce, and more. Power BI provides a wide range of visualizations, such as charts, graphs, and maps, which help you quickly identify patterns and trends in your data.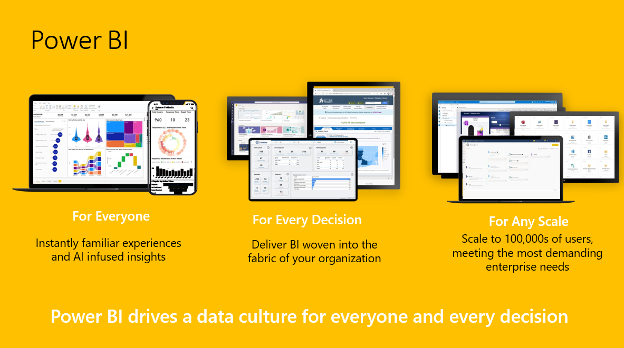 Now, that's not all: Power BI isn't just your average data visualization software—it's also a cloud solution! That means you can access your dashboards and reports from anywhere in the world, at any time. In addition to all these capabilities, the most revered feature is the fact that Power BI is built on the Microsoft Power Platform, making it a Low-Code solution. This allows persons with little to no coding experience to build interactive and complex dashboards, in minutes.
To top things off, Microsoft was again named Leader in the 2023 Gartner® Magic Quadrant™ for Analytics and BI Platforms for its sixteenth consecutive year.
Just in case you're not yet convinced, here are 7 more reasons to choose Power BI:
1. Easy to Use
One of the main benefits of using Power BI is its ease of use. The platform has an intuitive interface that allows users to create dashboards, reports, and other visualizations quickly and easily. This means that even non-technical users can get up to speed quickly and start creating meaningful insights.
2. Data Connectivity + Real-Time Data
Another benefit of using Power BI is its ability to connect to a wide variety of data sources. Whether you have data stored in Excel, SQL Server, or a cloud-based service like Azure or AWS, Power BI can connect to it. You can consolidate data from multiple sources into a single view to gain a more comprehensive understanding of your business.
This in tandem with Power BI's ability to connect to real-time data sources makes it a powerhouse for accessibility and connectivity. You can get up-to-date information on your business metrics and KPIs, allowing you to make informed decisions in real-time. This can be especially valuable for businesses that need to respond quickly to changing market conditions or other external factors. 
3. Interactive Visualizations
Another highlight of Power BI is its ability to create interactive visualizations. You can create charts, graphs, and other visualizations that allow you to drill down into your data to uncover insights. Enabling you to quickly identify trends, anomalies, and other patterns that you may not have seen with traditional reporting tools. 
4. Collaboration
Power BI also provides robust collaboration features. You can share your dashboards, reports, and other visualizations with other users in your organisation. This makes collaboration on projects possible, sharing insights, and getting feedback from others to improve your analysis.
5. Customisation
Power BI also provides a high degree of customisation. You can create custom visualizations, themes, and other branding elements to ensure that your reports and dashboards align with your organisation's brand and visual identity. This means that you can create reports that look and feel like they were custom-built for your organization.
6. Security
Power BI goes beyond its data analysis capabilities by providing robust security features that prioritize the protection of sensitive information. From data encryption and role-based security to row-level security and Azure AD integration, Power BI offers a comprehensive suite of tools to ensure data confidentiality, integrity, and availability. By leveraging these security features, organisations can harness the power of data analytics while maintaining strict control over data access and mitigating the risk of unauthorized disclosure.
7. Cost-Effective
Finally, Power BI is a cost-effective solution for data analytics. Compared to other enterprise-level analytics tools, Power BI is very affordable, with flexible pricing options that allow you to scale your usage up or down as needed. This means that even small and medium-sized businesses can take advantage of the benefits of data analytics without breaking the bank.
---
Overall, Power BI can help your company make better decisions by providing insights into your data in a visually compelling way. If you are interested in directly seeing the benefits of using Power BI for your organization, reach out to Davyn for a Free Consultation.
Let us help you make your business better.